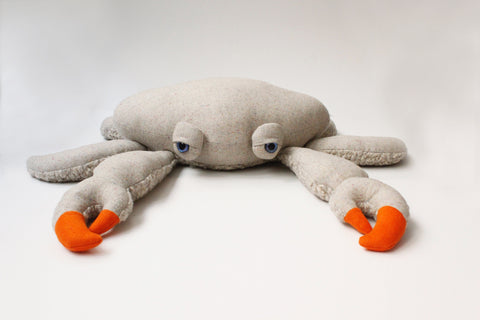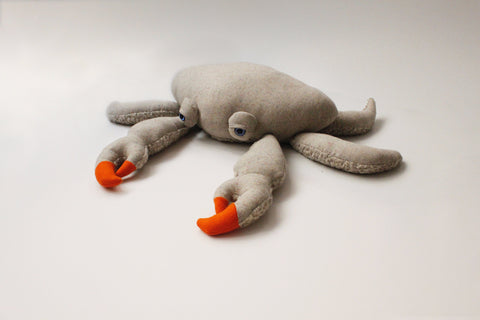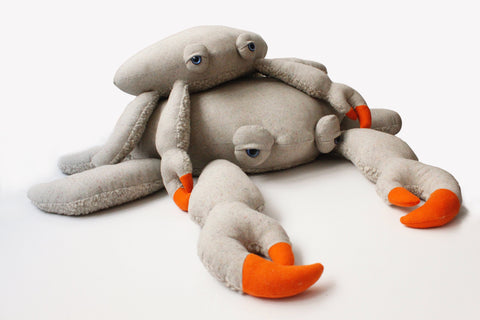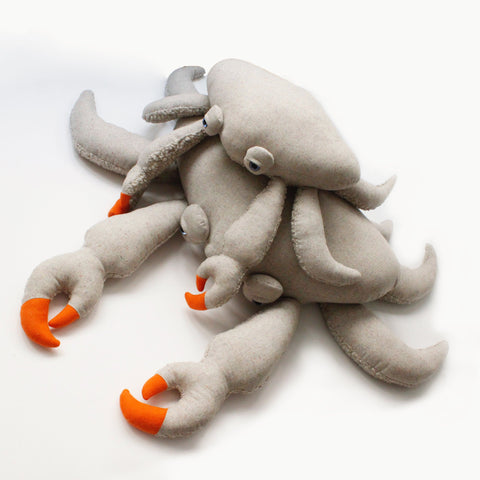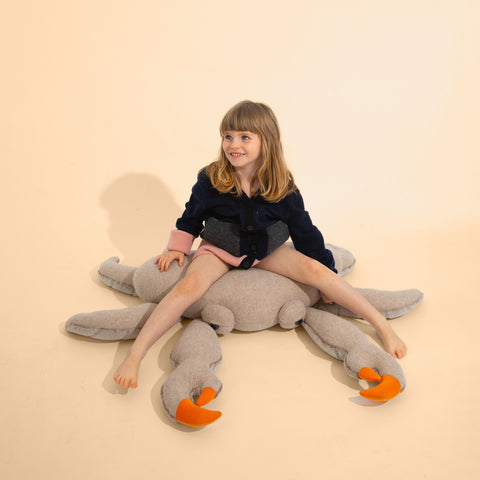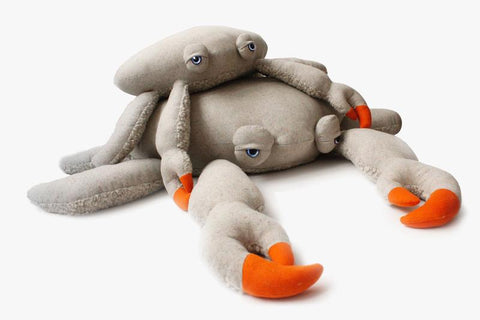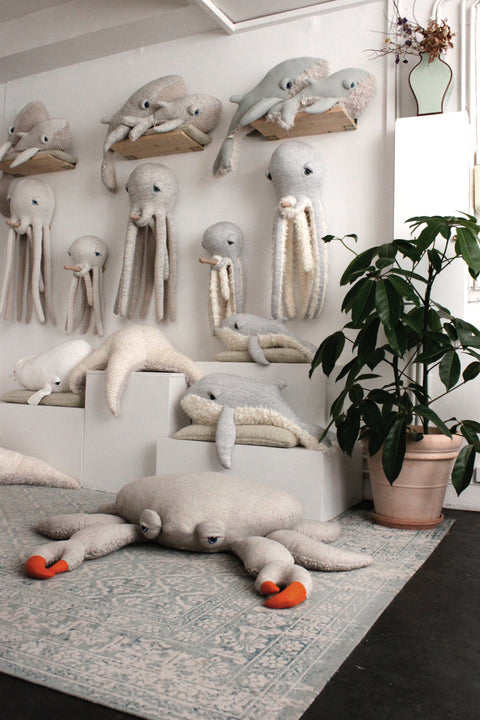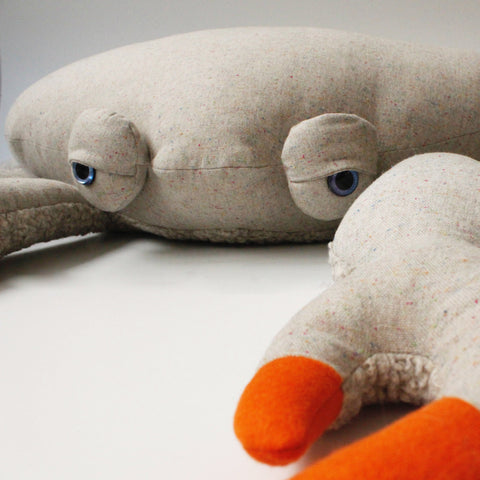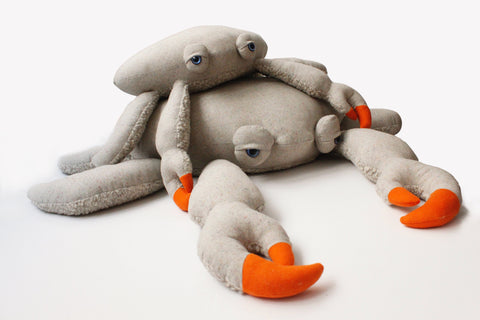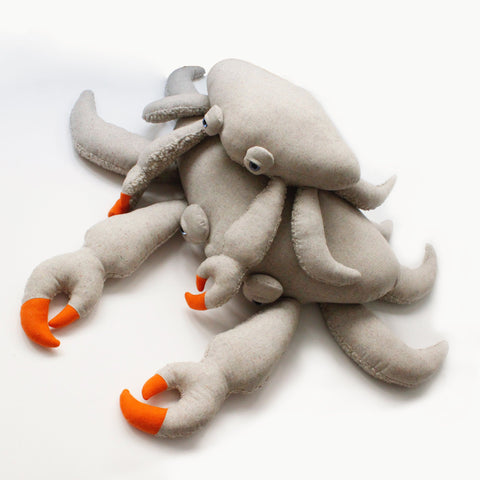 The Crab
" A work of art "
Customize your plushie
---
🎁 Customizable Gift note. Available after Checkout
Show more
STORY
This huge crab is eyeing you from the top of its rock: it is already ready to join the playroom or your children's bedroom. With its long fluffy legs and fluffy claws, it invites little ones to daydream about being at the beach under the summer sun, bucket and landing net in hand. The most beautiful underwater stories are reflected in his clear blue gaze. Playmate or benevolent guardian, our giant Crab XXL soft toy is the ideal size to play big. Hold on to its pretty coral-colored pincher to accompany it into an aquatic universe where the marvelous rubs shoulders with poetic softness. 
A huge crab soft toy for huge adventures
At low tide and at high tide, this magnificent sand crab roams the beach from right to left and from left to right. This adorable way of walking characterizes this creature, which can be found in a creek, on a dune or in an abyss deep in the ocean. All in an afternoon's play, he becomes a creature that fights alongside little knights, or an aquatic ride on whose back the little one can take off to discover the deep blue sea.
Phantasmagorically large, BigStuffed's XXL crab soft toy reaches a majestic length of 130cm. It will claim its place on the rug in the living room, on the sofa in the games room or on the bed in the bedroom to become an inimitable mascot in your home. You will not be able to resist naming him as soon as he arrives at home. You can easily fit the "small" version (which is still 90cm long) in a large shopping bag to take with you on all of your child's adventures.
Big Stuffed: A hand-sewn ocean creature for your baby
Soft toy with a fluffy texture or unusual decorative object, our XXL crab soft toy seems to come straight from "Twenty Thousand Leagues Under the Sea". And yet, this giant crab that bewitches anyone who crosses its azure gaze was born among humans, within the protective walls of the Big Stuffed workshop.  There, the meticulous and attentive work of our seamstresses gave birth to a 100% cotton, 100% darling crab. These magic needle artists inspired him with imagination, great benevolence and above all a lot of love. Enough to watch over your child and always be within arm's reach for big hugs. This top-of-the-range soft toy made of high-quality fabrics and resistant seams is ready to accompany your little one in each new chapter.
A soft giant crab as serene companion as your child grows
For any happy occasion in your family or your circle of friends, our XXL crab soft toy is the ideal gift for the arrival of a little one or for your favorite nephew's next birthday. Once in a caring and loving home, this charming soft toy will blossom and in no time become the favorite sea creature of adults and children alike.
Want to know if your crab dressed in cotton is on its way home? Do you have sweet words to whisper to us? We are always here to lend you an attentive ear. From when you place the order to when the XXL crab soft toy arrives on your doorstep, we answer all the questions of parents in a hurry to receive this little marvel, the future companion of their little one.
WHY BIGSTUFFED ?
💌 Design With Care in France
🎁 Unique Gift
💪 Made to Last Forever
🐣 Certified For NewBorn
🤗 20k Happy Adopters
Big or Giant ?
Compare the Size
Big
90cm / 35,4'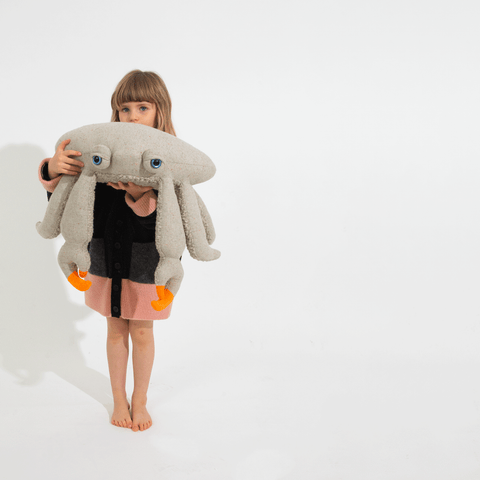 Giant
130cm / 51,1'